Time to Link up with the right People, to Learn from the right network, and to Search for the right destiny with our very first Co-Working Office Space that links the right tools and the right people together!
Available for individual usage for the Hot Desk space, or with a group of co-workers with the various Suite Rooms available, or space for a group meeting accommodating up to 10 people after which users can linger at the Premier Lounge for a well-deserved after work mingling session.
LinQ-uP is located on Level 5 of Town Square Bintulu Office Block, the first office tower in Bintulu being accredited with the MSC Malaysia Cybercentre Status which supports multiple telecommunication services, fibre optic connectivity with high bandwidth, and the much desired 100% power back-up for any working environment.  The centre is further enhanced with access card security for all co-working space categories, complimentary usage of the pantry and its appliances, and the availability of printing/copying/scanning services for free or at an irresistible rate.
Available from Monday to Friday, from 8:30 am to 5:00 pm, call LinQ-uP now at 086-344354 to know more about our LinQ-Up co-working space facility.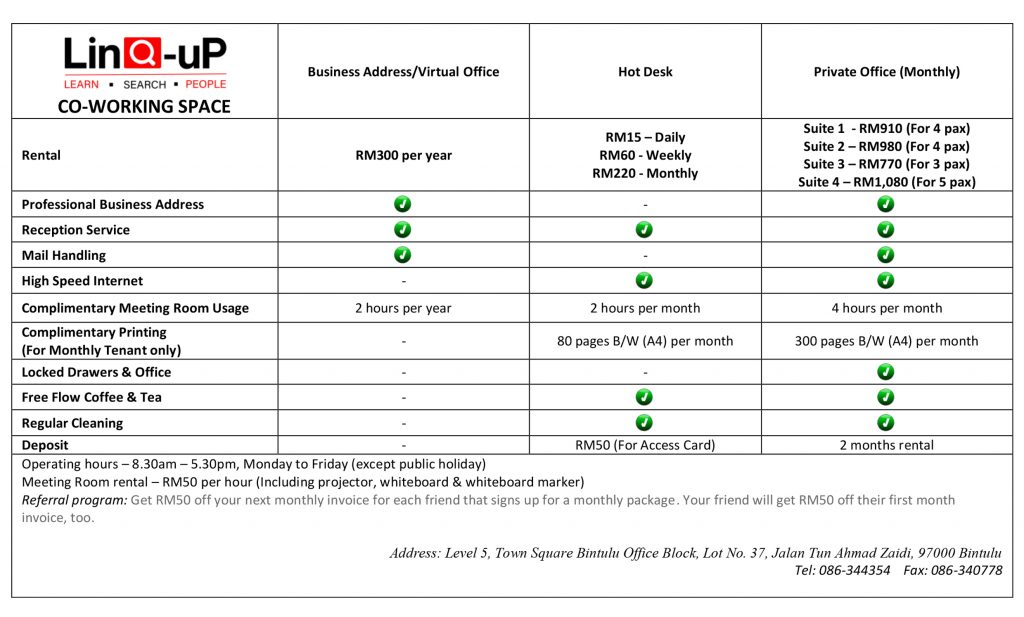 Back to List
Next Property