Bintulu Town Square: Ibraco Carnival 2017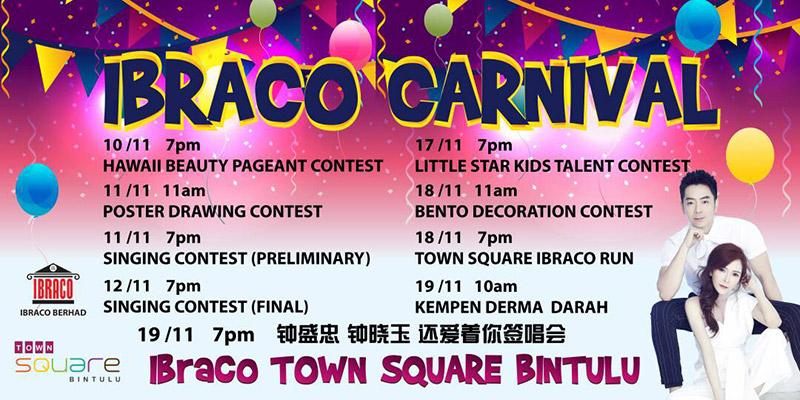 IBRACO CARNIVAL IN BINTULU!
Folks in Bintulu will be in for a special treat from Ibraco Bhd.!
Ibraco will be having its inaugural Carnival commencing 10th November 2017 and culminating on 19th November 2017 with special appearance by the famous siblings Nick Chung and Stella Chung at its One Stop Centre development of Town Square Bintulu (Town Square)!
Town Square will be lit up with a variety of activities tailored for the whole family during the Carnival. At the heart of the 10-days duration program will be the colourful Fun Fair comprising Halal and Non-Halal food stalls, trade stalls, and car exhibitions, enlivened with singing performances by popular local artists.
The highlight for the 1st weekend of the carnival will be the exotic Hawaii Beauty Pageant 2017, featuring beautiful ladies of Sarawak coveting for the alluring title, to be held on Friday evening. The 1st Saturday of the carnival will feature a poster drawing contest by children aged between 13 and 18 years of age, to be held in the morning, where the artist with the best artistic impression of the Ibraco Carnival will emerge the winner. Visitors on the lookout for more singing performances will be entertained by the first round of the adults singing contest on Saturday evening, to be followed by the final round on Sunday evening. Winner will be selected by various representatives of the music production company of Silver City.
The 2nd weekend of the carnival will be kicked off with the Little Star Talent Show, a competition showcasing the extraordinary flairs of children aged between 4-12 years old. The next day, another talent show, this time related to one's culinary flair, will be held in the morning. The Bento Decoration Contest features the imaginative side of chefs who will skillfully master their creativities to the hearts of the judges. The highlight of the 2nd weekend of the Carnival will be Ibraco's inaugural 5km Night Run! Each participant of the run will receive race packs containing Ibraco's first Run Medal, Running-T, BIB Number and sponsors' vouchers, and have the opportunity to be named Ibraco's very first Run Champion!
The Ibraco Carnival goes beyond all fun and games. It also includes a community social program. A blood donation drive will be held at Town Square Plaza, Ibraco's 2-storey commercial plaza located within the 3-storey shop offices of Town Square Bintulu. The carnival will then conclude with the mini concert by Nick Chung and Stella Chung, with intermittent dance performances and magic shows in between.
For further information about the Ibraco Bintulu Carnival, please contact Ibraco Bintulu office today at 086-339098/ 086-339485 , or Ibraco Head Office at 082-361111.
Back to News