Christmas Wonderland at Tabuan Tranquility
Christmas is just around the corner, and Ibraco Bhd. is ushering the Christmas Festivity with lots of Father Christmases, Christmas trees, reindeers, snowmen, toy soldiers, teddy bears, presents, and more!
The Christmas Wonderland at Tabuan Tranquility, commencing from this Sunday, 10th December to 23rd December 2017, is the first of such outdoor event ever held in Kuching. Visitors will wonder through a miniature Christmas Wonderland – an indoor gallery with various decorated themes, especially appealing for those who are camera-ready and for those who love to indulge in the Christmas spirit. Once exiting the Christmas Wonderland, visitors will enter the food and goodies galleria session - colourfully decorated food and goodie stalls showcasing various Christmas specialties. Visitors will be entertained by nighty carolling performances from different church groups and associations, and on 10th Dec as well as 21st Dec, a special appearance by Rose Iwanaga and The Young Once. Rose Iwanaga, an Ex-Marian, is Sarawak's very first English-language recording artist as the solo singer of the band 'The Avengers'. Rose Iwanaga and The Avengers, as a performing band, were very much in demand between 1966 and 1968 performing at stage concerts, private parties, charitable functions, night clubs, armed forces camps as well as over the radio! The band once performed an entire week of concert at Brunei, and also performed at the then Sultan of Brunei, Sir Omar Ali Saifuddin's 50th birthday celebrations!
The Christmas Wonderland is also part of Ibraco's fund raising community project for 2 selected charity bodies, namely Hope Place and the Sarawak Children's Cancer Society. Hope Place, a Non-Government Organisation, is Ibraco's charity partner. It resolves to alleviate the sufferings of the poor and deprived by providing essential food and other items, repairing dilapidated houses, and helping fire and flood victims. The Sarawak Children's Cancer Society is a charity body which raises funds to help children suffering from the cancer disease. A small token of RM3 entrance fees for each visitor will go go directly to these 2 charity bodies.
The venue for the Christmas Wonderland, Tabuan Tranquility, is Ibraco's now fully operational integrated mixed development project spanning over 162 acres. The exclusive address by Ibraco comprise of commercial centres, retail outlets, food and beverage outlets, entertainment outlets, offices, Banks, and a giant hypermall at just a stone's throw away from the over 1000 units of residential property units including a condominium. Next year, with the completion of the final stage of Tabuan Tranquility, or TT3 Plaza, a SOHO residential development, a stand alone food court, and an educational college will be added to the list of facilities available, providing investors with high value investment opportunities, and house seekers with a home or office where convenience is of the utmost importance. Next year, yet another exciting new development will emerge at just across Tabuan Tranquility. The much anticipated new integrated project will be Ibraco's new greenery-themed development. The NorthBank is made up of 2 phases, each offering purchasers with choices of various types of residences, be it landed or high rise residentials, built with walking distance to commercials, office units, and even a highly popular educational institution, as well as a private social clubhouse. With the availability of the highly established international school, Northbank will be Ibraco's first 'education city project'. NorthBank also provides ample open space for all healthy activities and a Walk Square to add to the aura of exclusive living. Other facilities include leisure parks, jogging treks, and mini lakes.
For more information regarding the Christmas Wonderland, visitors may contact 082-361111 or 012 891 8861. Ibraco wishes everyone a Merry Christmas and a Happy New Year!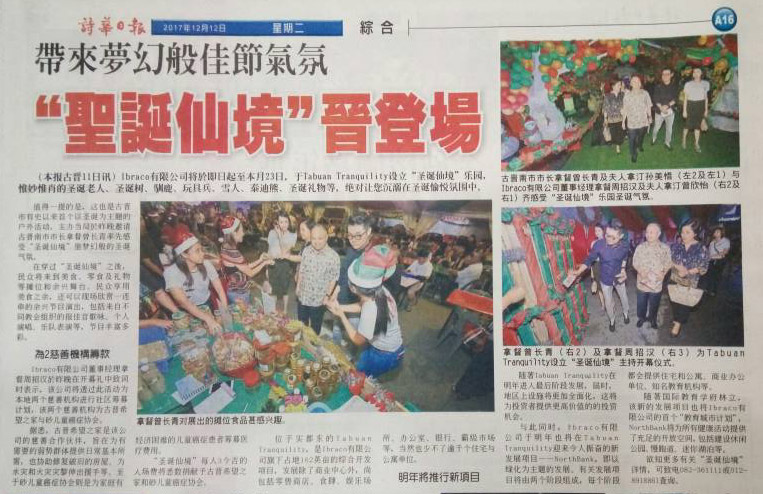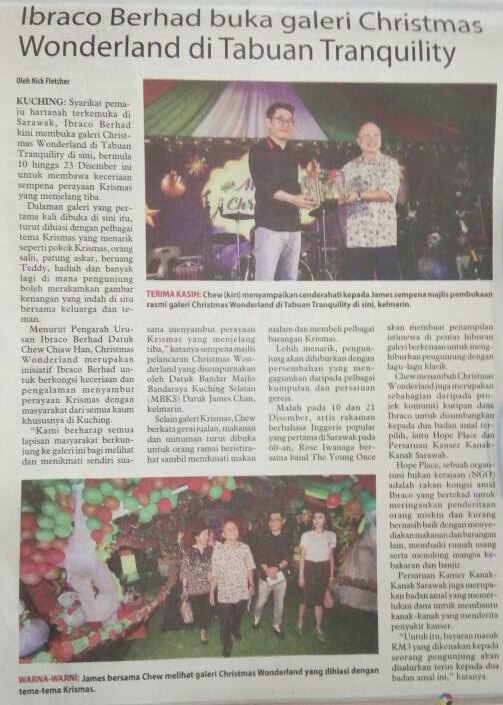 Back to News